New Drug Approvals
check this video

…………….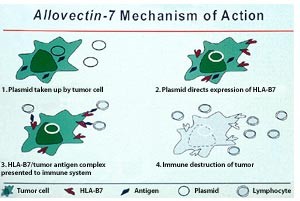 Vical's (VICL) Allovectin-7 is a pure immune therapy.(1) Which means it does not directly kill cancer cells, but activates the immune system to do so. Vical will soon announce A-7 phase 3 results in Melanoma, but the mechanism of action is not specific to Melanoma, and can be used in any solid tumor cancer.(2) For this reason, I expect that Allovectin-7 will become one of the best selling cancer drugs of all time.
http://seekingalpha.com/article/1584402-analysis-of-vicals-allovectin-7-best-results-ever-in-a-melanoma-phase-3-trial?source=google_news
Allovectin-7 is a substance that is being studied as a gene therapy agent in the treatment of cancer, such as malignant melanoma. It is a plasmid/lipid complex containing the DNA sequences encoding HLA-B7 and ß2 microglobulin – two components of major histocompatibility complex (MHC, class I). It increases the ability of the immune system to recognize cancer cells and kill them.
In 1999, FDA granted Allovectin-7 orphan…
View original post 186 more words